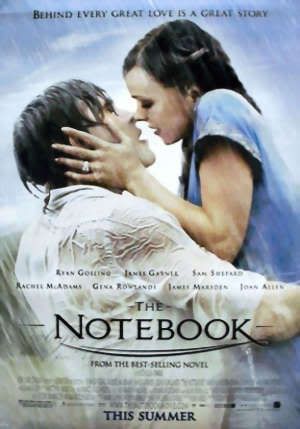 Synopsis:

The story begins in 1940. At a carnival in Seabrook Island, South Carolina, local country boy Noah Calhoun (Ryan Gosling) sees seventeen-year-old heiress Allie Hamilton (Rachel McAdams) for the first time and is immediately smitten. She continuously refuses his persistent advances until their well-meaning friends lure them together; they then get to know each other on a midnight walk through empty Seabrook.


The film goes back to the elderly couple, and Duke asks Allie who she chose. She soon realizes the answer herself; young Allie appears at Noah's doorstep, having left Lon at the hotel and chosen Noah. They embrace in reunion.


"I love this part"
:

Elderly Allie suddenly remembers her past before she and Noah joyfully spend a brief intimate moment together; after originally finding out about her illness, she had herself written their story in the notebook with the instructions for Noah to
"Read this to me, and I'll come back to you."


But soon Allie relapses, losing her memories of Noah yet again. She panics, and has to be sedated by the attending physician. This proves to be too difficult for Noah to watch and he breaks down. The next morning, Noah is found unconscious in bed and he is rushed to the hospital; he later returns to the nursing home's intensive care ward. He goes to Allie's room later that night, and Allie remembers again. The next morning, a nurse finds them in bed together, having both died peacefully holding each others' hand.


My comment:


This movie really touches one's heart......deeply. Morale of the story from this movie is to keep the faith to your love and
behind every great love is a great story.